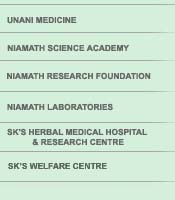 SK'S HERBAL MEDICAL HOSPITAL & RESEARCH CENTRE
A hospital and Research Centre for Herbal application in the maintenance of health.

S.K's Herbal Medical Hospital & Research Centre is a centre of an unique combination of treatment with herbal medicine and physiotherapy. The Hospital specialises in herbal treatment in accordance with the Greeco-Arabic system of Medicine, popularly known as the Unani system of Medicine.

The Hospital, the first of its kind offers the following specialities.

WHEN YOU THINK OF HEALTH
THINK OF US
FOR

Apart from regular medical faculties such as Out patient, Inpatient, Clinical Laboratory, the Hospital has specialised Departments for Pain cure, Physical fitness, Physiotherapy, Meditation, Beauty care and Treatment for Obesity.
A few of the special therapies that are provided at the Hospital are Turkish bath, Massage, Exercises, Traction, Cupping, Leaching, Acupuncture, Accupressure, Magnetotherapy, Chromotherapy, Shortwave therapy, Interferential therapy.
The Hospital has made a break through in the relief of Neck & Low Back Pain,Joint Pain, Sciatica, Skin problems (pimples, eczema and the allergic conditions),Sinusitis & Rhinitis, Liver and Gastrointestinal disorders, General and specific nervous disorders, stress related problems, over weight (obesity), Addiction to Alcohol and Drugs, Sexual disturbances, Infertility, Beauty care, Diabetes, Renal & Gall Bladder calculi, Filarisis & Gynaec disorders.

Treatment for Neck & Low Back Pain


Treatment for Accupressure & Aramma Therapy


Treatment For Over Weight


Treatment for Beauty Care


Treatment for Filaris


Treatment for Skin Problem